Stone Carving On Exhibition


Stuart at Buckhorn doing a demonstration in Indiana Limestone
Coutesy of Peterborough Examiner- photo by Jessica Nyznik


Presence ( Wonderstone) won the First place Sculpture award at the Georgina Gallery juried exhibit.


Balanced Flight
This little bird is carved from a combination of Marble and Onyx.The rock layers perfectly emphasized the contours and wings.


Stuart at the Canadian Stone Carvers Festival held in Perth, Ontario, with his "Great Horned Owl", produced by carving a block of Indiana Limestone for 20 hours. The art pieces are donated to a fundraising auction organized by " Smith & Barber", which raised over $11,000 for Habitat For Humanity.
For more images Click Here


Heraldic Lion from the "Bruce" clan carved in Indiana Limestone.
15" x15" x 6"


Stuart displays the Banjo Devil at the Newcastle Gift of Art, show. photo by Benjamin Priebe Metroland


Nurture
Inspired by the birth of twin boys, to my wife's daughter. This abstract is carved from Brazilian Soapstone. Approx 12 in. high and finished with traditional "Boiled Linseed Oil" and then coated and polished with beeswax.


Cat On The Books
This Multi-media sculpture includes an "Alabaster set of books", supporting a "Marble view camera" and a "supplied aluminium cat" The cat was covered in images from Lucy Maude Mongomery's early days in P.E.I. (duplicating the cyanotype colouring of the originals) and perched on the assembled items, including a vintage 4x5 plate film holder. The finished piece was donated to the LMM Society fundraising auction and the lucky bidder gifted it back to the society, to keep in their permanent display.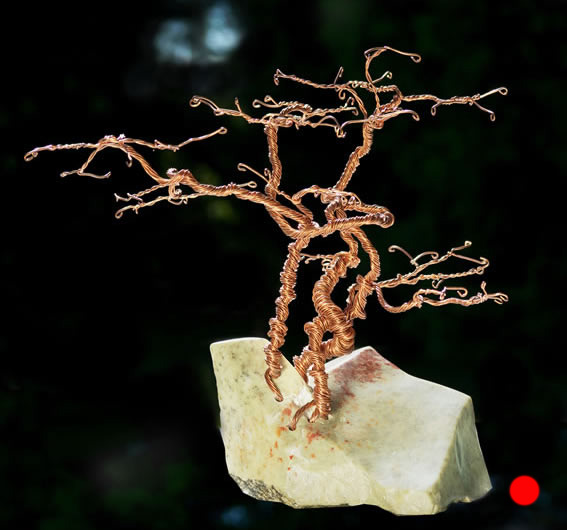 Familial Tree
Copper wire and a stone base, are used to create these "Trees". Created in different sizes and shapes, many of them make excellent jewellery trees. (Private Collection)